A user interest survey has been running for a bit over 10 days. Thank you to everyone who participated. It really does help shape the direction of PDX Tools.
Here are the results of the survey: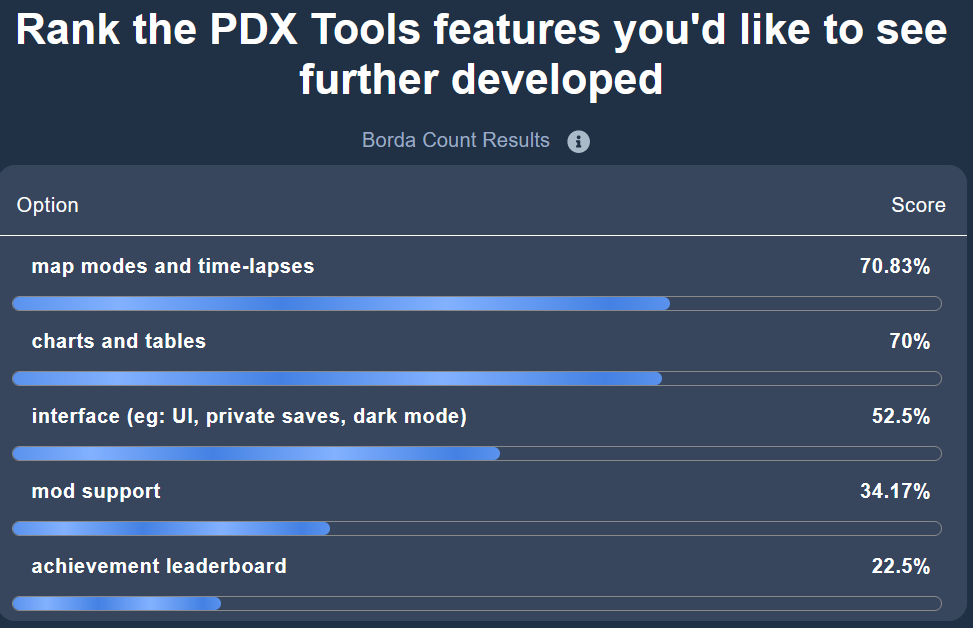 Ranked results from user interest survey
The biggest takeaway, for at least this blog post, is that users don't have a strong interest in expanding the leaderboard; either by adding new EU4 achievements or adding achievement detection to other PDS titles.
As consequence here are some changes to PDX Tools:
Uploads are no longer partially gated by requiring the save to crack an achievement leaderboard. All uploads are now treated the same.
API keys need to be regenerated.
The /eu4/achievements page no longer shows the current record for each achievement. One must navigate to the individual achievement to see the leaderboard
These changes have been done for two reasons:
Eliminates the database used for leaderboard, making it easier to maintain and develop PDX Tools.
Improves the user experience, as users no longer need to think about how achievements affect an upload
Important: For those who are achievement enjoyers, of which I consider myself a member of: achievements aren't going away. I will continue maintaining them if only to satisfy my desires, but I want them to be as easy to maintain as possible. And running a separate database just for achievements doesn't make sense anymore.